Foil Service

Oracal 970 series, extraordinary flexibility and the appropriate application form, which features multi-layered cast PVC film. High quality glossy surface.
Protective paper, 137 g / m², one side silicone coated protective paper.
Adhesive, Solvent polyacrylic, with trailer, ease of application is capable of providing a transparent adhesive.
Printing Method, suitable for solvent based digital and silk screen printing.
Use Areas; Long-lasting and durable coating works should be designed specially for car. Ease of application over uneven surfaces. The right material and equipment can be easily removed.
Technical Data; Thickness * (without protective paper and adhesive) 100 micron, Form flexibility (FINAT TM 14)
Maximum on steel, 0.1 mm tensile
Sea Water resistance (DIN 50021)
On aluminum for a period of 100 hours and at 23 ° C no change
Temperature resistance of aluminum do not change over the -50 ° C to +110 ° C
Tensile strength (DIN EN ISO 527) / Length of minimum 21 MPa / Cross-minimum 21 MPa
Flammability (DIN 75 200)
On steel flameless lights and self-extinguishing
The adhesive strength * 18 N/25 mm; (FINAT TM 1, after 24 hours, on the stainless metal)
Resistance to solvents and chemicals; room temperature for 72 hours on aluminum to most oils, greases, fuel, aliphatic solvents, weak acids, salts and alkalis resistant to short-term.
Application temperature: min. +8 ° C
Elongation strength (DIN EN ISO 527) / Length of minimum 150% / 150% of the minimum cross-
User life, black and white, 10 years, 8 years in a transparent and colored, metallic 6 years
Vertical application; (Central European climate conditions)
Color option, 26 color options
Usually, ** original packaging at 20 ° C and 50% relative humidity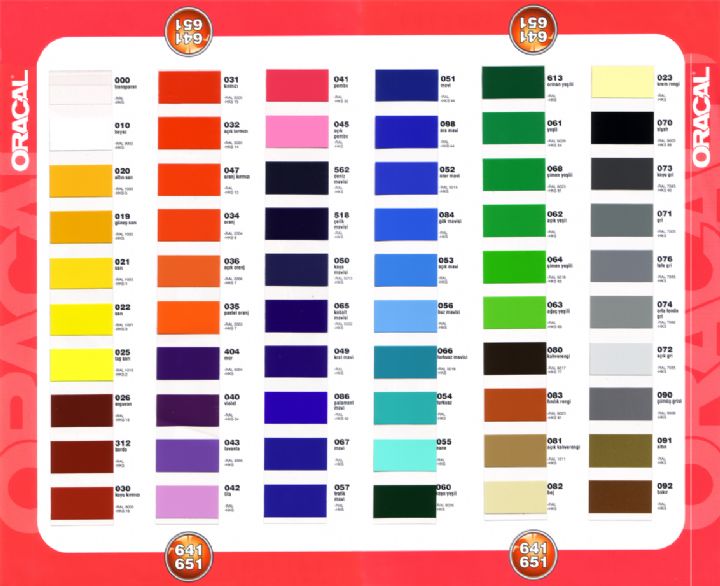 3M ™ ScotchcalTM 85 Series Covering foils, self-colored gloss and matte options, offers high quality solutions for your tools.
easy Application ;Application that does not require tape 3M ™ ScotchcalTM 85 Series vehicles coatings reduce the time and cost of implementation.
Fololarla thicker compared to other cast structure, provides the convenience of application and removal operations.
With micro-sized air kanalcıklarına adhesive (ComplyTM Version 3) feature prevents the formation of air bubbles during application.
Although gasoline-resistant pressure-sensitive acrylic adhesive, during application of the first stage shows a weaker adhesion, providing strong adhesion to the next stage makes application easier.

■ At the end of Endurance featuring dismantle

■ Resistant to outdoor weather conditions

■ High-pressure washing equipment can be cleaned with

■ Pasta - polishing can be done.